Philanthropy has always been at the forefront of our business and our organization firmly believes in giving back by not only investing in our local surrounding communities but around the world as well.
In fact, effective October 31, 2003, we opened a domestic non-profit corporation, Partnerships for Unreached People, Inc. (P4UP) to further our commitment to the causes very close to our heart. Our Vision is that P4UP is a non-denominational, evangelical Christian organization thriving to build strategic partnerships for meeting the needs of people unreached by sharing the Gospel of Jesus Christ.
Our focus is more on disadvantaged children and our motto is "Breaking the Cycle, One Child at a Time". It is our desire to provide opportunities for our management, staff, other businesses, churches, and individuals to get directly involved with us as "Partners" so we can all make even a greater difference in the lives of people.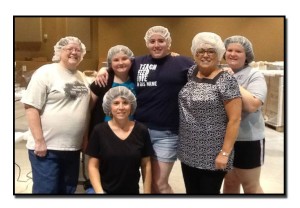 Likewise, our organization "Partners" with numerous local charities to help make a difference in the lives of people locally. To provide an impact globally, we "Partner" with a National organization, Feed The Hunger, by participating not only financially but by encouraging our management and staff to participate in Pack-A-Thon's where we pack nutritious food consisting of four basic ingredients: rice, soy protein, dehydrated vegetables and vitamin powder. These ingredients are combined together and then bagged, weighed, sealed and boxed for shipment to places in the United States, Asia, Africa and the Caribbean. While many of us are blessed to have three meals of our choice daily, we need to remember that in many parts of the world, children are going hungry every day of their lives. We feel that together, we can make a difference not only locally but around the world. It is our desire to "Break this cycle, one child at a time"!
We invite you to visit our website, p4up.org, to learn more about our philanthropic commitment both here at home and around the world. If you would like to "Partner" with us, we would love to hear from you.
J. Wayne Smith
Chairman of the Board
jwayne@p4up.org
"Breaking the Cycle, One Child at a Time"